Pastel de Nata campervan is a thoughtfully designed vehicle to explore and enjoy in a slow way the backcountry, the city, or just down at the beach. With plenty of storage for your personal items.
Pastel de Nata campervan is perfect for who's looking for adventure with a touch of old school french glamour!
Cheap, low cost, economic. Whatever you call it, don't be misconceived by the price. You won't miss out on anything in this wonderfully fitted HiTop camper, whilst you are in Portugal.
If you get a surf package to learn how to surf (with surf lessons), both prices of van and surf lessons become cheaper.

2 big beds
Seating & beds for 3-4 people
Storage
Kitchen with sink and running water tap
Gas cooker with fixed two pit places
Fridge
Kitchen utensils


(4 cereal bowls, 4 plates, 4 cups, forks, knives, spoons, 2 pots, 1 frying pan, 1 pot mat, 1 cutting board, 1 colander, 1 salad bowl, 1 big soup spoon, 1 spaghetti spoon, 1 fruit knife, 1 big knife, 1 corkscrew, 1 Tupperware container, 1 kettle)

Coffee express pot
Cleaning kit


(1 sponge, 1 degreasing agent, 1 detergent, 1 dustpan & brush, 1 scrubber, 2 cloths)

Bedding kit


(pillows & pillow cases, duvet & duvet covers, sheets)

12V and 220V electricity
Camping 220V wall cable (use for electricity on campsites)
Radio/speakers with USB and AUX options (AUX cable included)
Car jack, triangle & fluorescent vests
Fire extinguisher
First aid kit
Privacy curtains
Space for surfboards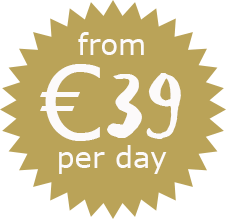 Available trip information and suggested tours.
Advice about the logistics and other information on where to surf, what and where to visit and party if you're interested.
Pastel de Nata campervan was not designed for cruising 1000′s of kilometres at top speeds, particularly in the summer months with high temperatures!
How many can we travel on Pastel de Nata ?
Pastel de Nata can take up to 4 travellers.
It haves 2 double beds. However we think you can meet the highest patterns of comfort with 3 travellers sleeping.
Does Pastel de Nata have a toilet and bathroom ?
Yes, Pastel de Nata does have a bathroom and you can take shower inside and outside the van.
You can get a portable toilet as an extra. This must be returned clean or charge will apply.
Can I also rent extra equipment such as surfboards, wetsuits, etc. ?
Of course you can. Please let us know in advance what you need, and we will provide you with everything. An extensive list of extra equipment and their prices can be found here.
Is there a minimum age requirement to drive ?
Yes, 21 is the minimum age for the driver. If the driver is under 25 years old we require you to pay a little extra fee.